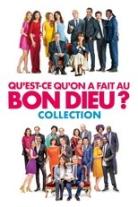 Serial (Bad) Weddings Collection
16 April, 2014
A catholic French couple sees their life upside down when their four daughters get married to men of different religion and origins.
30 January, 2019
Claude and Marie Verneuil face a new crisis. The four spouses of their daughters, David, Rachid, Chao and Charles decided to leave France for various reasons. Here they are imagining their lives elsewhere.
09 December, 2021
Claude and Marie Verneuil will soon be celebrating their 40th wedding anniversary. For the occasion, their four daughters - Isabelle, Odile, Ségolène and Laure - decide to organize a big surprise party in their family home in Chinon. They also decide to invite, each, the parents of their respective husbands - Rachid Benassem, David Benichou, Chao Ling and Charles Koffi.